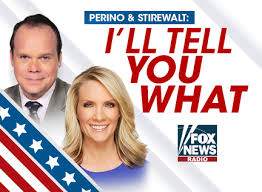 NewsTalk 1540 WYCL, is proud to announce that as part of its expanded weekend lineup a Fox News Block will anchor Sunday mornings.
I'll Tell You What with Dana Perino, former White House Press Secretary, co-host of Fox News Channel's "The Five" and host of "The Daily Briefing" and Chris Stirewalt Fox News Politics Editor and host of "Power Play", run through the daily goings on in the world of politics.
I'll Tell You What airs Sundays at 9 a.m. on NewsTalk 1540 WYCL.
Be sure to check back to TalkMahoningValley.com tomorrow for the reveal of the final program joining our weekend lineup, along with the full listing of our new weekend lineup.